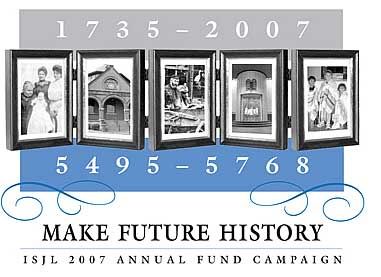 The Jackson-based Goldring/Woldenberg Institute of Southern Jewish Life has launched its 2007 Friends campaign as a way to "Make Future History."



The Institute works to preserve and document the practice, culture, and legacy of Judaism throughout the South, providing educational and rabbinic services to isolated Jewish communities, promotes a strong Jewish cultural presence and celebrates the rich history of the Southern Jewish Experience in 12 states.



Among the communities served by the ISJL are: Auburn, Birmingham, Dothan, Florence, Huntsville, Mobile, Montgomery and Tuscaloosa; Lafayette, Lake Charles, Mandeville, Monroe, New Iberia and New Orleans; and Greenville, Jackson, Meridian, Natchez and Vicksburg.



"The Institute is all about the Jewish community," said President Macy B. Hart, "and it's all about our future as Jews. We cite the 1735 formation of Congregation Mickve Israel in Savannah as early evidence of a strong Jewish community in the South. We want to be sure that Jews throughout the region continue to thrive. We also want to ensure that our contribution to American life is preserved and celebrated."



In 2006, the Institute's rabbinic program worked with 46 underserved congregations in the region. The organization's early childhood to grade 10 religious school curriculum was adopted by 36 congregations who are supported by a staff of professional educators and fellows based out of the Jackson office.



Institute staff currently work with 300 teachers and more than 1,600 children who use their curriculum package.



More information: www.isjl.org or 601.362.6357.